Engage in your employee experiences
Employee Focus Experience ™
Change begins with you. Then there are the employees that play an important role in enthusiastic customers. Employees who are passionate about their work contribute to the growth of your organisation and even become brand ambassadors. Enthusiastic employees take more pleasure in their work, are more productive and contribute to the profitability of your organisation. It is just these enthusiastic employees who give maximum effort to achieve customer satisfaction.
The Employee Experience Game
Long live the employee experience!
The inventors of the Employee Experience Game, Nienke Bloem and Babs Asselbergs completely endorse this vision: "Create an optimal employee experience and turn employees into proud ambassadors. Ensure the desired culture and corresponding behaviour."
Measurements of employee experience at various relevant times are naturally very important, but to involve and motivate employees even more, "The Employee Experience Game" offers fantastic opportunities.
Focus Feedback software
We collect feedback from your employees at various significant moments. This feedback is presented comprehensibly on our state-of-the-art dashboard. Using our analysis tools, reports and follow-up options, you can rapidly anticipate employee feedback.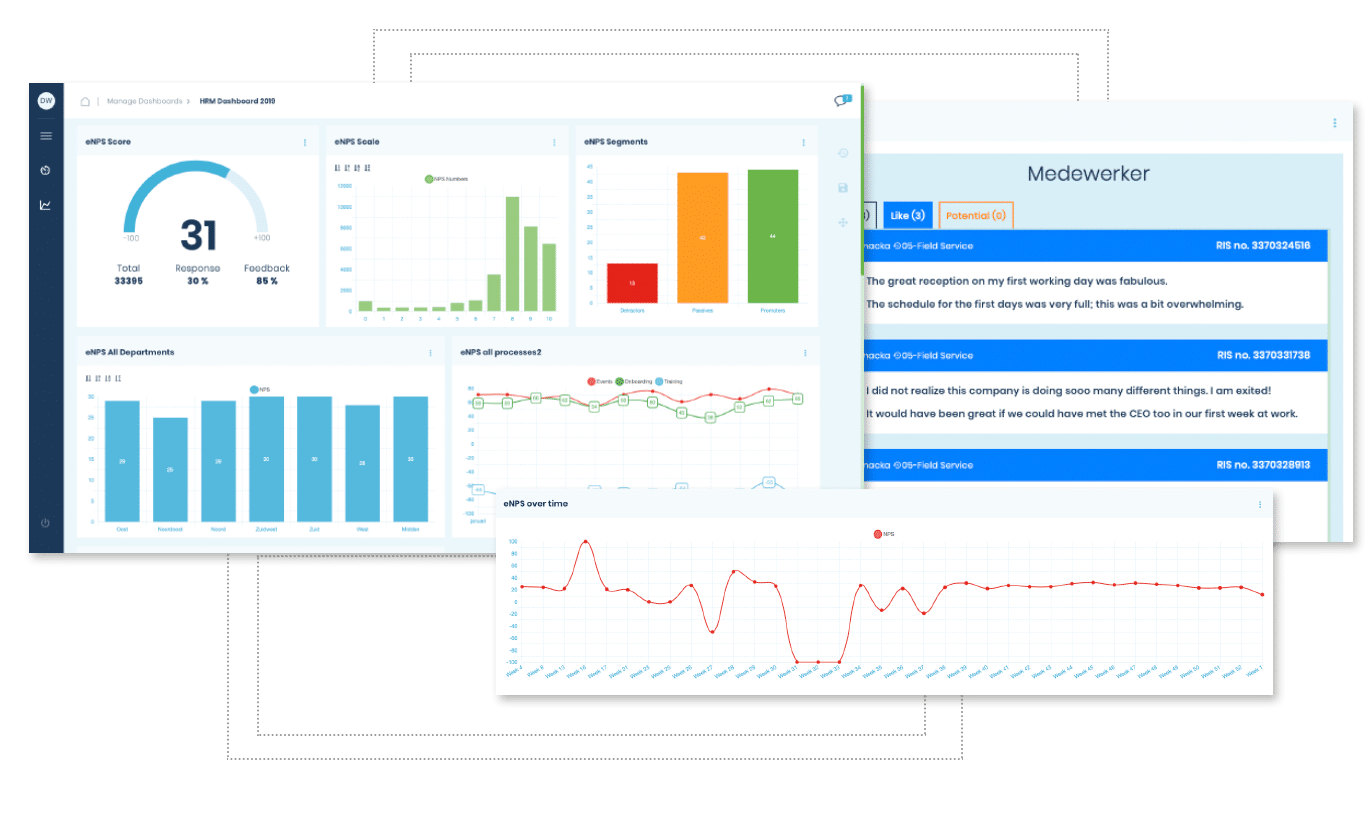 Tailor-made communication
Simple communication with your employees
Invitations to your employees can be sent anonymously 24/7 in all written languages, automatically and manually. We do this via various channels, including e-mail and sms. We use pre-set criteria and ensure that the privacy of your employees is maintained.
Comprehensive information
Valuable feedback at a glance
Feedback received is bundled into various overviews in combination with relevant background information, such as age, gender and location. You can simply display feedback in diagrams, graphs and tables, with results classified. So, you can compare your feedback and take direct action.
Your own look & feel
Everything in your own style
All invitations, reminders, surveys and thank-you messages are created in your organisation's style. So, they are recognisable for your employees. In addition, we elicit a faster and higher response rate during the significant feedback moments of your employees using short and powerful surveys.
Feedback classification
Targeted analysis of feedback
The more extensive your employee feedback, the better. By categorising feedback from open questions using a clear classification system, it becomes easier to analyse and compare feedback. The classification you use depends on the feedback you receive. So, you can determine for yourself the points for improvement you focus on.
Reports & infographics
Visualise feedback
To implement concrete points for improvement, it is important to share feedback internally with those involved. This can be done using periodic reports, infographics and even presentations that can be shown during work meetings, consultations and events. By being proactive with employee dedication, your employees become more loyal and enthusiastic.
Closed Loop feedback
Follow-up as a personal point of improvement
Actually seeing that something happens with the feedback: that's what can make employees enthusiastic. The Focus Feedback software puts you in a position to not only analyse feedback, but to do follow-ups by showing employees that their feedback is being used for internal improvements.
Employee Feedback Management
Real-time insight into employee feedback.
Because our software is an integrated SaaS solution, employees can give and analyse feedback anytime and anywhere, and we simply link the software to the systems you use. We support you in the use of the dashboard and process all feedback in accordance with strict security regulations.
+ Comparable numbers and classified open responses.
+ The possibility for individual follow-up and internal sharing of results.
+ All-around feedback with complaints, compliments and improvements
+ Integrated system thanks to API linking.
+ All contemporary feedback methods.