Focus Feedback invites James Dodkins
Tuesday, October 27th, 2020 was the day of the first Focus Feedback webinar. 'Focus Feedback invites CX Rockstar James Dodkins'. And it was a big success!
Who is James Dodkins?
James used to be an actual, real life, legitimate, award-winning rockstar. He played guitar in a heavy metal band, released albums and tore up stages all over the world, James uses this unique experience to energize, empower and inspire his clients and their teams as a 'Customer Experience Rockstar'. Now he is the # 1 Customer Experience Influencer in the UK.
What was the webinar about?
In the webinar, James talked about 27 tips to increase customer satisfaction. These are all tips (or hacks as he calls them) that are very accessible and easy to implement. Without huge budgets, large teams or expensive consultants.
How did the webinar go?
Over 100 registrations from customers and other interested parties all over the world poured in. The goal: share knowledge, inspire and motivate. During the webinar it even turned out that participants found the connection with each other!
What were the reactions?
We wouldn't be called Focus Feedback if we didn't measure satisfaction and NPS among those present ourselves. The NPS of the webinar is +62, which included 0% detractors, 38% passives and 62% promoters. A few other fun facts:
95% gave a score of 8 or higher
The survey had a response rate of 45%
97% of the respondents left written feedback
Are you curious about the feedback that attendees gave? You will find that in this infographic.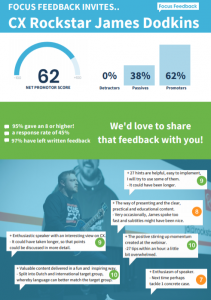 We are very happy with all of the reactions and feedback. This was the first edition of "Focus Feedback invites .." in a series that we believe will be continued by many others! We will certainly include all your feedback in this.